Our Featured Collections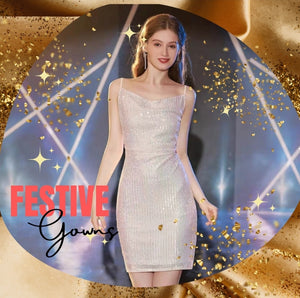 Festive Gowns
Glam Up With Our Festive Gowns For Your Year End Parties! Shop Gowns For All Your Festive Events This Season!
2023 Bridal Collection
Shop the 2023 Bridal Collection here.
Expect simple, clean silhouettes, sleeved gowns in this collection. Gowns will be updated every week.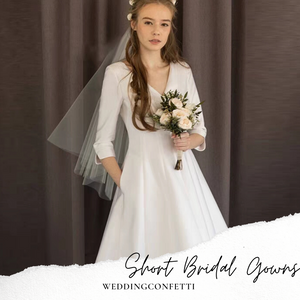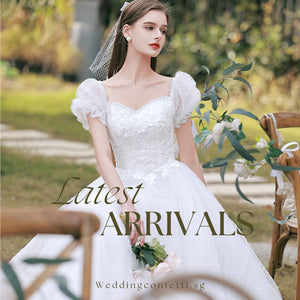 Customisation Of Gowns
How It Works
 
1.  For customisation of gowns according to your own measurements, please indicate upon checkout your bust, waist, hips, shoulder width, arm circumference, armhole measurement and length of dress in cm and choose the customisation option.
2. If you are unsure of how to measure, you can opt for our seamstress to measure you at a minimal fee.
3. Upon ordering of the gown, we will be able to connect you with our seamstress who will contact you for measurements and you can leave the rest to us! It's that simple!
4. For customisation of design, please email us at sales@weddingconfetti.sg or drop us a message and we will send you a quotation.
Testimonials
The dress that i customized at Wedding Confetti is indeed very pretty and fitting. Both my future to be husband and his parents saw it and asked me where did i get it. They just couldn't believe i got it online from Wedding Confetti. The material is good and sturdy and it looks exactly the same as the picture. Will be wearing it for my church wedding. Thanks for the awesome dress!

Amanda N
Ordered a bridesmaid dress for my friend and the dress came earlier than expected, quality is good and she's able to customize according to the design I wanted. Highly recommended to all buyers looking for gowns or dresses, thank you!

leamour
Seller was super nice and knowledgeable. Also, WeddingConfetti had a great selection of dresses with all sorts of price ranges. Seller tailored my dress according to my measurements and it turned out absolutely stunning! I would highly recommend to all ladies out there who want to get a great dress for a great value and top notch service!

simplicity86
I'm truly impressed by the quality and workmanship of the dress. It looks exactly like the picture and it fits well. Highly recommended! The dress was completed within the time frame and it was delivered promptly!

shopchelles
Custom dress turned out exactly like in the picture I provided! Item made and delivered within promised time frame. I super love it, thank you!

bex
Always apprehensive about buying clothes online, what more a gown that is meant for an important event. Seller was friendly and patient with all my questions. Dress came like what I wanted. Great quality, good fit as it was customized to my  size. Super happy with my purchase! Thanks!

paully.ton.13
Seller was very patient with me asking so many questions. Such a sweet person! A bit of late replies cos I know she will be busy attending to other customers but that shouldn't be an issue. My wedding dress is soooo perfect from the material, to the design, and to the fitting (customized) It fits me nicely and it looks exactly like the picture shown. My mom can't even believe when I told her the price of the dress! So much love for Wedding Confetti!! ❤️❤️❤️

relakonecorner
Really a great seller to deal with! She is prompt in her response, and patient in helping me with my enquiries. I love the dress and shawl that I got from WeddingConfetti, the materials are of good quality and they look similar as per the photos! Thank you once again!

Rene Teo
Made my wedding and evening gown with WeddingConfetti. The quality is superb and I was able to have it altered till it fits like a glove. Received lots of compliments from my everyone and I am glad I went with WC for my wedding. Thank you WC team! ❤️

Carine W